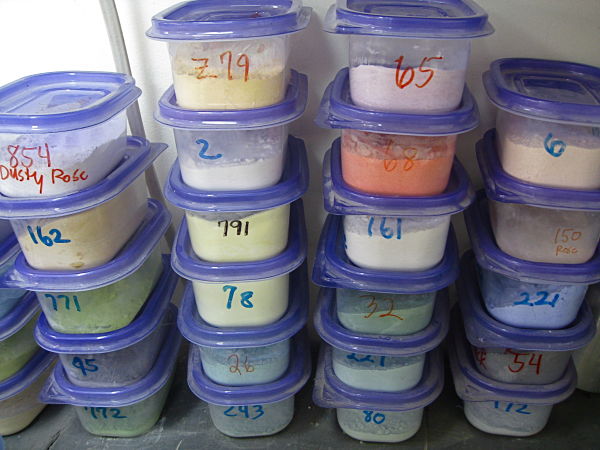 Cane
I pull my own glass rods, or canes. I am using soft glass, or traditional blowing glass. We gather clear glass from our melting furnace and color it by rolling the hot clear glass through powdered colored glass, and then encasing the color in another thin layer of clear. These gathers of glass are pulled into 40' lengths while still hot, and then cut down into the 1.5' lengths you see here. Coloring my glass this way allows me to both mix my colors and control their densities. I use these colored glass canes in a torch flame to sculpt petals, leaves, and small components which I further color using more glass powders. Having some color in my base canes allows me to work much as a watercolorist would use washes, and I can achieve subtle or dramatic color changes when I sculpt in the torch.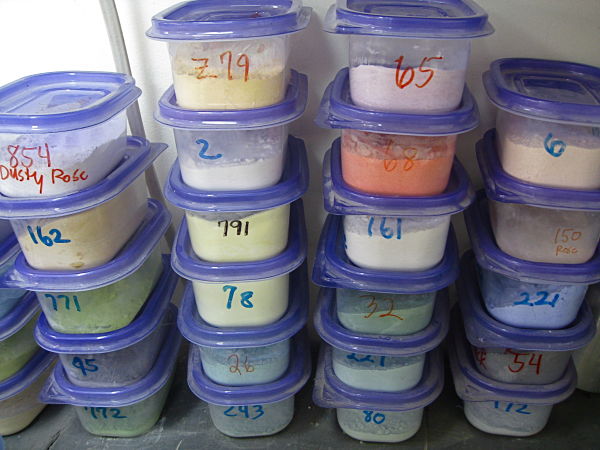 Glass powders
I have a variety of commercially available colored glass in powdered form. I like to use both opaque and transparent colors, and often layer my colors to create custom palette.
Small Flowers
These flowers were made for the Valentine series, and I like to sort my parts by type, and color. I will often make petals all day long, and then use those prepared petals the next day to build my flowers in the torch.
Pattern Drawings
Each design begins with a design drawn out on a piece of 1/4" clear plate glass. I then bend all my glass canes exactly to that pattern using a torch with a warm flame.
Profile
The dimension of the piece will be defined by the circles which are being held in place by the profile pieces. The circles were formed by cutting straight contrasting colored glass canes into small pieces, then fusing them back together into a long straight cane of alternating colors. Then these fancy canes are bent into circles.
The larger elements
Larger elements like flowers or fruit have the stems or rods of glass attached while hot. I need to have a good idea of the volume of the form in which the element will be used when it's being made to ensure that the curve of the extending rods are correct because I can't go back once it's cooled to adjust it. These larger elements are annealed immediately after they are made. Annealing is a process that allows the glass to cool evenly and removes stress from a glass object.
I fuse the larger elements into my piece once they have cooled to room temperature, taking care only to torch the protruding canes or stems with the flame. I absolutely have to keep my flame away from the body of the blown element when it's being attached.
The details
Here you can see the form being covered and given life with the addition of flowers and leaves.
The entire piece will be relieved of stress by placing it in a room temperature oven and bringing it slowly up to it's annealing temperature before it leaves my studio.
Building
Here I am working on a similar piece which gives you some idea of the scale and how the hand torch alows me to move around the body of the piece.
Portrait of the artist as a mother.
2000
The first meeting of the Petrovic Debating Club
I've been married to Marc Petrovic since 1991. Marc is a gifted glass artist and sometimes educator. We share a studio in Cleveland, Ohio. Our work is complementary, as we often explore similar themes in our own ways.
Sugar Cookie Ornaments
I am mindful of recycling. This body of small work allows me to up-cycle my leftover parts into their own beautiful little confections. Available through our Birds in the Hand Jewelry web site, I hope you will hop over and take a look!
Birds in the Hand Jewelry
Birds in the Hand Jewlery is a small company my husband, Marc Petrovic ad I, started to up-cycle his leftovers. We sell jewlery and my ornaments through that website.